Cloud Storage Trends

Recently Leonovus surveyed and interviewed technical professionals across a broad spectrum of industries about their adoption of cloud storage.
Adoption of cloud storage will continue to be a strategic direction for most enterprises, with multi-cloud, alone or in a hybrid scenario, increasing. This will be especially true for any organization deploying AI/IoT; organizations will want to have the broadest storage deployment model since many AI/IoT workloads will span from the data center to cloud to edge.
Management of data in a hybrid/multi-cloud environment received the lowest rating for top cloud storage challenges, but we believe over time optimizing data management will become a top priority for organizations as they move more of their data into the cloud. Organizations will want to move their data seamlessly, have a single view of their data storage surface and will want to have automated data storage tiering capabilities to leverage.
We know the tremendous growth of unstructured data is driving the adoption of public cloud storage and is creating new challenges with respect to securing data in the cloud. Organizations will want to be able to ensure data integrity, maintain control over encryption keys, understand the difference between data sovereignty vs. data residency which would be critical for situations like silent subpoenas of data, finally be able to ensure data resilience in case of breaches and forensic audit support.
KEY FINDINGS FROM SURVEY
78 PERCENT OF RESPONDENTS, TODAY, ARE PLANNING OR IMPLEMENTING THEIR CLOUD STORAGE STRATEGY
11 percent of enterprises are all-in with cloud storage
33 percent of enterprises are in the planning stage
22 percent have no plans to store data in the cloud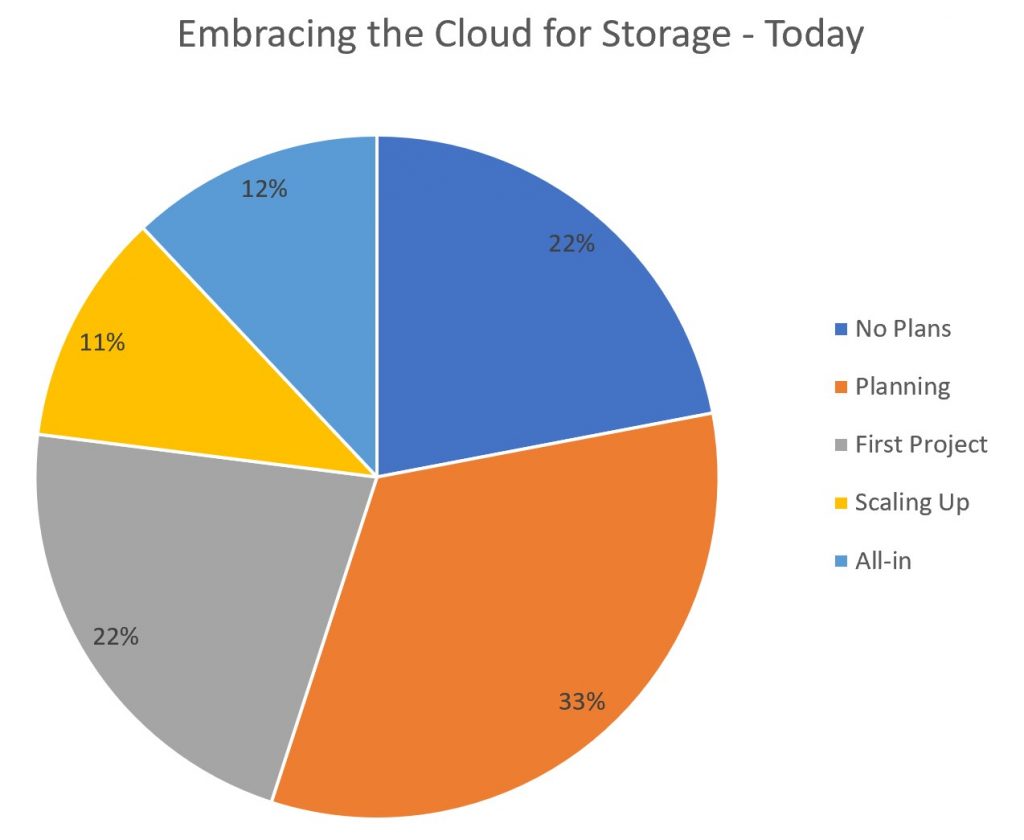 63 PERCENT OF RESPONDENTS ARE TRENDING TOWARDS HYBRID-MULTI-CLOUD STORAGE AS A FUTURE STRATEGIC OBJECTIVE
13 percent of enterprises' strategy is hybrid with single public cloud
There is a 9% increase in customers looking to adopt the cloud in the future
Many enterprises are taking a pragmatic approach with 76 percent choosing a hybrid approach for their future strategy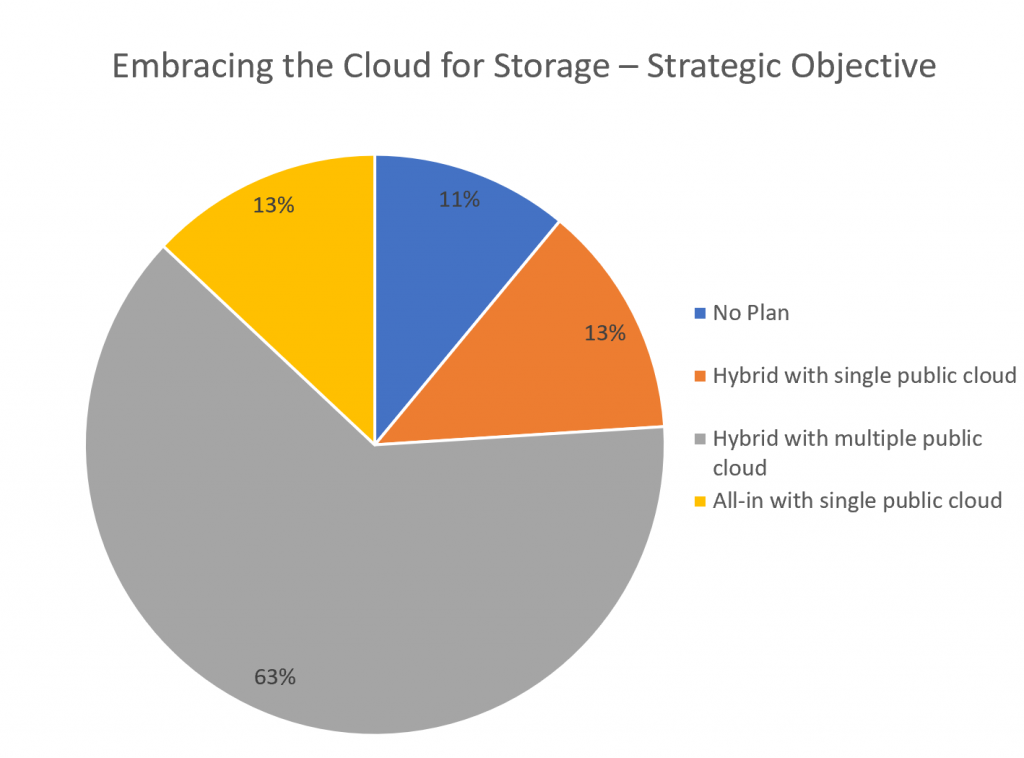 DATA RETENTION AND CONSISTENT CONTROL OF DATA ARE THE TOP CLOUD STORAGE CHALLENGES TRENDING IN 2019
Longer-term data retention and applying consistent controls are the top challenges at 33% for enterprises which isn't a big surprise since the control of the data will be critical when managing data which has to be stored for compliance reasons for – at times – decades
Interesting that migration of data was viewed as a negligible challenge. This could be because most enterprises are just starting the process of migrating their data to the cloud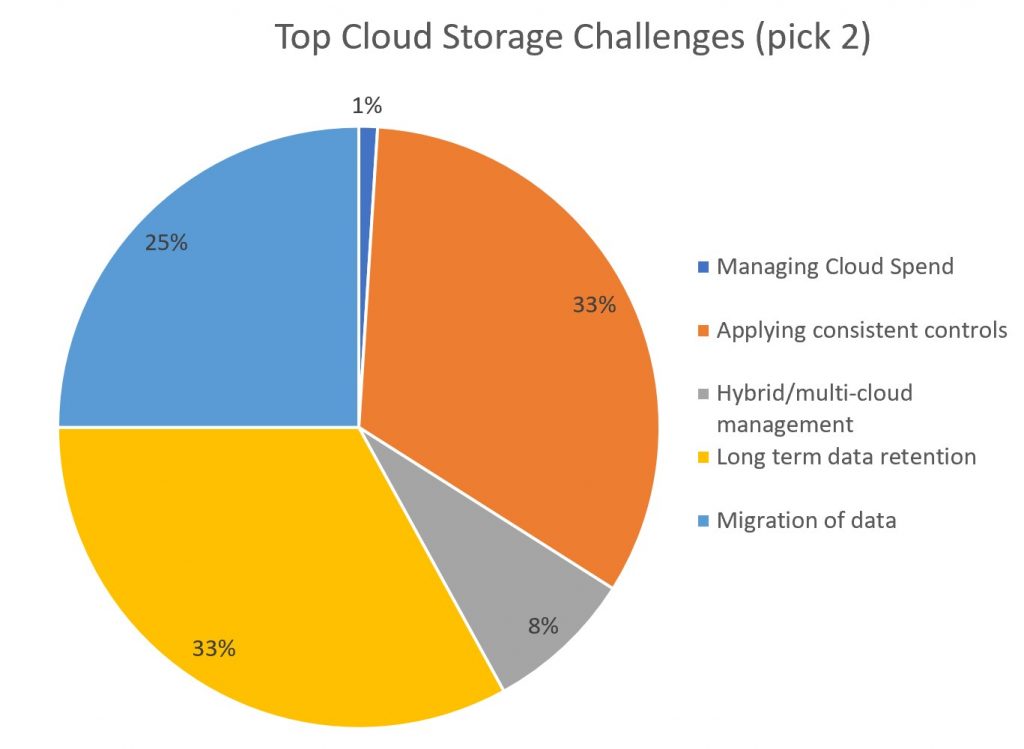 ENHANCING SECURITY/COMPLIANCE CONTROLS IS THE TOP DATA STORAGE INITIATIVE FOR 2019
50 percent of respondents identified improving security/compliance controls a critical priority for them in 2019
Tied for second top priority and related are reducing/eliminating data center footprint and develop/executing a multi-cloud storage strategy
What is also interesting from the research is the lowest initiative, but still at 25 percent is optimizing existing use of cloud storage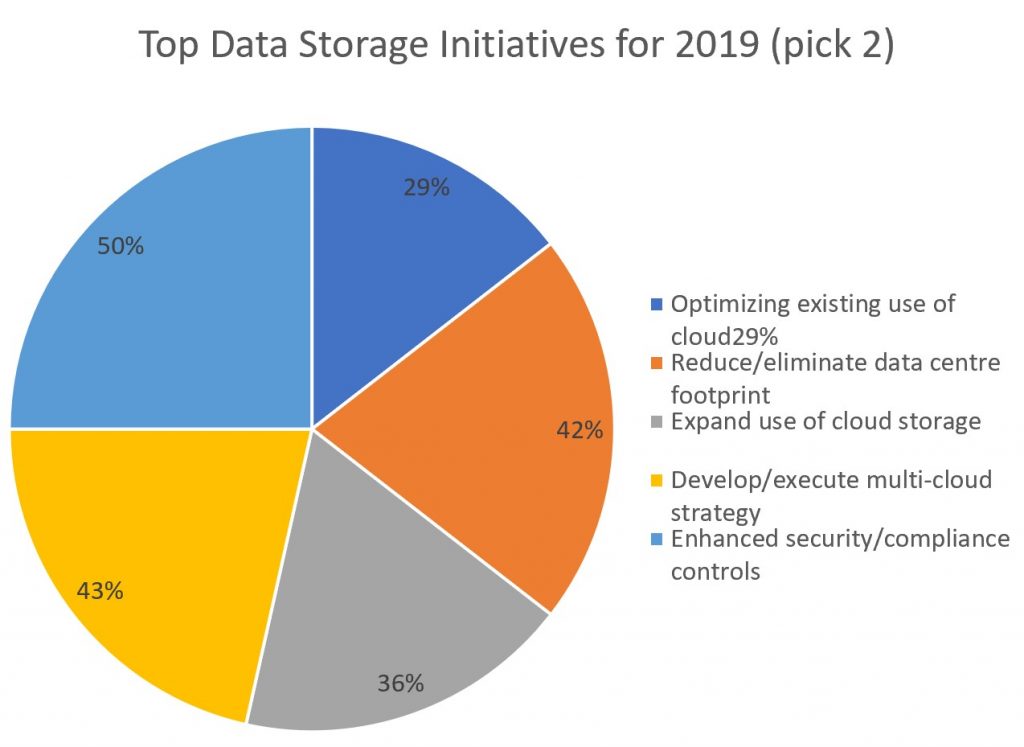 You might also be interested in