Leonovus has been named «CIO Review 10 most promising storage solution providers - 2018»

An annual listing of 10 companies that are at the forefront of providing storage solutions and impacting the marketplace.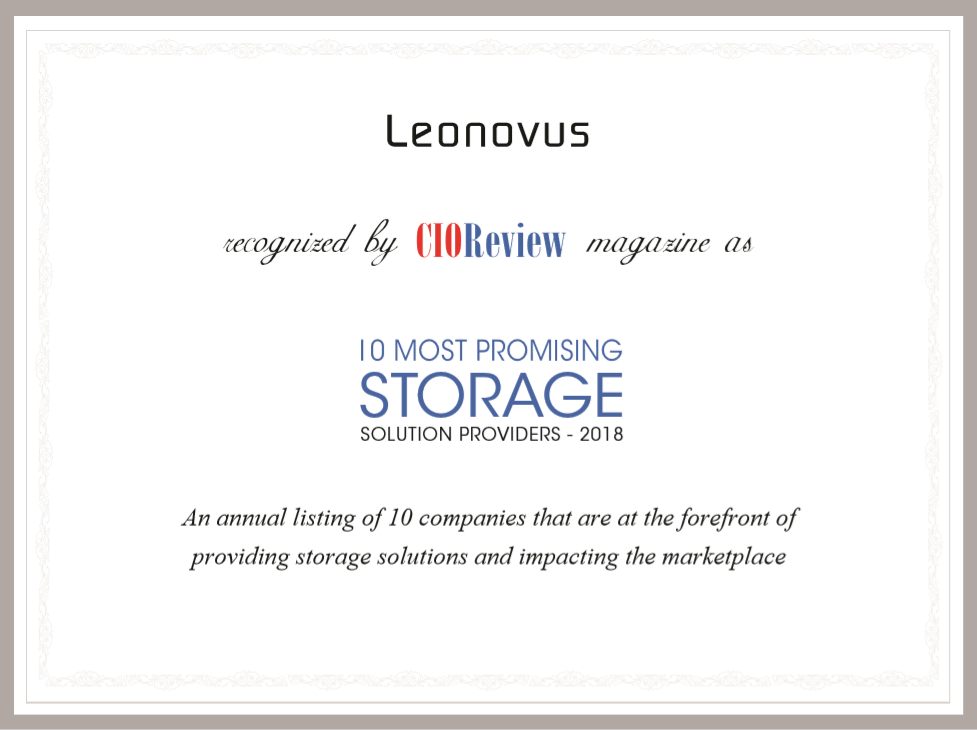 CIOReview offers a ground-breaking platform allowing decision-makers to share their insights, which in turn provides both budding and established entrepreneurs with analyses of information technology trends and a better understanding of the environment. To select recipients of this award a prominent panel of CEOs, CIOs, VCs, and analysts along with CIOReview's editorial board have determined that Leonovus was deserving. The company was chosen based on its ability to offer innovative, secure, reliable, and scalable data storage services to accommodate the growing data storage requirements. Therefore, receiving recognition like this from another reputable organization is further justification that Leonovus efforts in penetrating the storage market are being well received. It is a clear that Leonovus' product that encrypts, shreds, and spreads data across multiple endpoints in public cloud, private cloud and on-premises is resonating with the storage community. As the company continues to transition from an investor-backed startup to revenue-backed company it is poised for success as more proof of concepts are converting into paid customers with very positive feedback from clients who have implemented the product.

Moreover, Leonovus will be releasing and implementing Leonovus 4.0 in late September. This next generation of Leonovus will harness the benefits of blockchain and combines this emerging technology with the company's core product of optimized file storage. For many of Leonovus' targeted verticals, the implementation of blockchain becomes a game-changing feature. For example, a blockchain can maintain an auditable trail of evidence and cryptographically ensure whether a file is an original or if it has been tampered with. Knowing this information is invaluable for law enforcement and public safety agencies who are dealing with sensitive case evidence. Moreover, when it pertains to financial service companies who deal with very sensitive personal information of their clients. Having a blockchain to secure this data, will help prevent costly data breaches.
"The company continues to grow tremendous momentum. From increasing proof of concepts, customers, staff, and now receiving this award for being a promising storage solution provider. It is obvious the market is beginning to recognize Leonovus as a key player and a market disruptor. The company has invested over $25 million dollars to get to this point and we will continue to invest heavily on development to ensure the product utilizes cutting edge technology to ensure it offers the best product for our clients. Therefore, they will always have the peace of mind of knowing their data is utilizing leading software while ensuring their data is secure, compliant with regulation and compliance standards and is cost efficient." Said Michael Gaffney, Chairman & CEO of Leonovus Inc.
You might also be interested in