Smooth sailing through the data lifecycle.

Tom Broussard, Senior Sales Engineer, Leonovus
I am just returning after the CIO Digital Transformation Summit in beautiful and finally warm Ottawa.  The summit focused on transformations occurring in both the public and private businesses relating to technology, security, and people. Of course, data was the core thread throughout all the discussions and panels. Throughout the summit, I started thinking about how businesses today really depend on their data, rightly so, and how it holds a business steady. Very similar to what an anchor does with a boat when it is at rest.  But thinking more along those lines, I started wondering what happens when the boat wants to leave. It must first raise the anchor prepare for departure then it can begin its explorations.  Then I began to wonder, can how we manage our data, throughout its lifecycle, be holding us back from new explorations or goals?
I began to think, can a business be held back by its data?
Today, we have many and I mean many steps in the data lifecycle.  You obtain it (purchase or create data), then you index it, store it, transact with it, analyze it, report it, display it, secure it, sell it, buy it, archive it, back it up and hopefully one day you actually delete it (which sadly rarely happens).  Of course, I forgot some steps, and some are out of order, but it is clear all businesses depend on their data.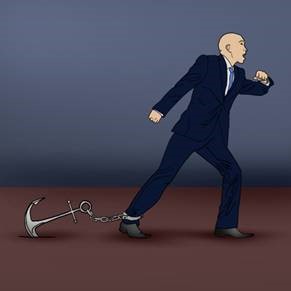 Throughout the data lifecycle, we meet with and develop relationships with vendors and build our infrastructure to support and update our data. Now the basics are complete, and your data exploration is sailing away. What happens when you discover something new, something that you know you will benefit from?  You want to take that new thing and cram it into your existing steady infrastructure and hope that it will not rock the boat too much. However, having something that will synergize well with their current infrastructure continues to be a struggle for many businesses.
Now for some real excitement is your data exploration prepared for attacks? Data breaches, hackers, natural disasters, government regulations, malware, etc. all these issues must be prepared for because they can all happen and all at once!  The proverbially perfect storm!  What now?  How do you protect your business from possible vulnerabilities? That is the question businesses face today. You've spent so much time and effort building up a strong infrastructure that you've become so rigid and inflexible, one major disaster/hack/breach/etc. could really hurt your business or in some cases end it. What can you do to prepare for something like this? You can start by looking at what is most vulnerable or susceptible to attacks and work to prepare for them.  Your current active data or in-flight data is always highly susceptible and it isn't much you can do with it. However, the at-rest data, things you store and keep around just in case of disasters are the cannons on your ship. They will help protect you from these attacks letting you return to safer waters. You can do this by unlocking the at-rest data from the underlying infrastructure. Yep unlocking it, not detaching it, but unlocking it.  This means the data is still available for use and making you the one and only captain of this data.
Leonovus can enable this by helping you aggregate your at rest data, no matter where it sits, into a single data layer. This layer isn't locked into a single vendor or even a specific location.  You then can take it and secure it with double encryption, "shredding" it and dispersing it across all your locations.  You can even include cloud(s) in that mixture, the more the merrier.
In essence, you have unlocked your data from a single vendor, single location, single provider and then guaranteed that it is secure no matter where it's stored and that it will always be available. If you think your data lifecycle can benefit with Leonovus fill out the contact form leonovus.com/contact-us and we will get back to you shortly.
You might also be interested in